Planetary Lotion
Ok, allegedly there's a Mercury retrograde coming up around here sometime soon. And like all superstitious people I will be experiencing a wave of cleasing in my life (like when you eat a bran muffin topped with raw coconut and drinking a grape-prune juice mix). So in the spirit of this evacuation here are some interesting links that...you may find interesting...
In case you have ever wanted to make soap like in
Fight Club
,
you can go to this interesting
article
on Lunchip.com which describes their efforts in detail.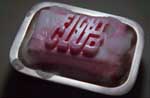 Whilst in the midst of another Internet wandering I came across the
Lomographic Society International
. In case you are unfamiliar with lomography it is defined [on their site] as "...
the most interactiv, vivid, blurred and crazy face of photography worldwide. we heartily and most warmly invite you to dive into our unique online photo-features, to taste our cameras and -most of all- to become a lomographer. help us to simply build the biggest snapshot portrait of our planet and to revolutionize the picture communication from the hip. prost.
" Some cool things. Always fun to see other perspectives of the planet.
If cooking rather than lomography is more your forte, then perhaps this ancient Roman recipe
site
is for you. Hosted on the servers of Canegie Mellon's
School of Computer Science
[who knew??], there are some truly delightful and surprising concotions contained there in.
I have this thing about squirrels. I have no idea why. So whether it be Foamy from
Ill Will Press
or
The Happy Tree Friends
, I just like squirrels. Is that ok with you??!!?? And so I wanted to share my favorite online game
Smacky
. You have to wait for the game to load while an ad stares you down, but the game is SO worth it!! Basically, Smacky is a grumpy squirrel who doesn't wanted to be bothered by
anyone
. The object of the game is to beat the crap out of everyone. There are multiple moves and even an option to transform into a demon [it's complicated]. Still, my favorite online game at present.
If you're like me, you are always on the look out for alternative news services (i.e. AlterNet, IndyMedia, DailyRotten). So the newest edition to the list is Guerrilla News Network. Mission statement:
Guerrilla News Network is an independent news organization with headquarters in New York City and production facilities in Berkeley, California. Our mission is to expose people to important global issues through cross-platform guerrilla programming.
This, is G-N-N...
Perhaps you are interested in the progression of the art on cigar labels. I have nothing to say as it speaks for itself. Go
here
.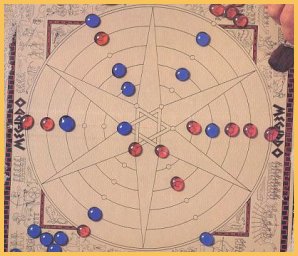 Cigar art many not exactly do it for ya. You may be the more sophisticated type who enjoys a shot of cocaine and a game of strategic intesity. For an archive of such games
Abstract Strategy
is the place for you.
There is a website that has a good concept, but bad products. It is
Infidel Tees
. They are self-describes as, "
...We, at InfidelTees, decided to start a tee-shirt company with the highest quality, most affordable, solid cut and best of all, 100% American made tee shirts, thus proving a person can purchase cool tees without losing their shirt.
" The word "cool" may be exaggerating it a bit. But I believe that they are open to new ideas.
Also listed under miscellaneous is the CIA Webpage for
Kids
. Subversion against the domestic population?? You be the judge.
And last, but certainly not least - Safe Sex. I am always a fan of people who have the patience, unlike me, to read to the bottom of a long-ass post. So in reward I give you the strange, yet...direct, safe sex ad from some place other than here. It will shock you a little bit so either prepare yourself or go snuggle with
Walt Disney
. Remember
Don't Sleep With a Scorpion
.
This concludes our foray into nowhere. I hope you've enjoyed your trip. If you have any suggestions, please leave them here. Thank you for flying TransFossil.
Oh and in case you want something incredible, Michael Brown, the former director of FEMA is starting a disaster preparedness firm.
Yes, here's what NOT to do.
Here's the
article
.